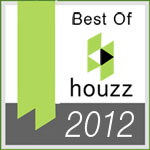 JEFF BLAKELY of BLAKELY & ASSOCIATES Receives
Houzz's 2012 'Best Of Remodeling' Award
First-Ever Survey & Analysis of More than 1.2 Million Members Reveals Top-Rated Professionals and Current Design Trends from Across the Country

[LAKE PARK, FL] — March 21, 2012 – Jeff Blakely, ASLA, of Lake Park, FL has been awarded "Best Of Remodeling" 2012 by Houzz, the leading online platform for residential remodeling and design. The third-generation landscape architectural design firm was chosen by the more than 1.2 million registered members of the Houzz community.
The Houzz "Best Of Remodeling" award for 2012 is given in two categories: Customer Satisfaction and Design. Customer Satisfaction award winners are based on homeowner members who rated their experience working with remodeling professionals in 12 categories ranging from architects, and interior designers to contractors and other residential remodeling professionals. Design award winners' work was the most popular among the 1.2 million members, also known as "Houzzers," who saved more than 16.5 million professional images to their personal ideabooks via the Houzz site and iPad/iPhone app.
"I am honored to receive this award," says Mr. Blakely, "and would like to thank the Houzz community. Regardless of the scope of any project we undertake, the goal of Blakely & Associates remains the same: In consultation with our clients, we attempt to coax them to share their vision of paradise…."
"With 3.5 million monthly unique users and 80 million monthly page views, Houzz has rapidly become the largest community of active remodelers, providing homeowners and design enthusiasts with first-hand advice from Houzzers who have been through the renovating and decorating process," said Liza Hausman, vice president of marketing for Houzz. "This is a real stamp of approval for Jeff from the Houzz community and we're thrilled to welcome him to this elite group of 'Best Of' winners."
With Houzz, homeowners can identify not only the top-rated professionals like Jeff Blakely, but also those whose work visually aligns with their own design goals. Homeowners can also evaluate professionals by contacting them directly on the Houzz platform, asking questions about their work and evaluating their responses to questions from others in the Houzz community.
About Houzz Houzz (www.houzz.com) is the leading online platform for home remodeling, providing inspiration, information, and advice for homeowners and home improvement professionals. Houzz features the largest residential design database in the world, articles written by design experts, and a vibrant community.
2010 Stars of Design Award
     Jeff was recently honored as a 2010 recipient of the Stars of Design award at the Design Center of the Americas, in Dania Beach. The DCOTA features an awards evening called Stars Of Design. The awards cover a broad range of the arts…no discipline is left out. This year the award for Interior Design was given to Sam Robin, Architecture to Max Strang, Photography: Robin Hill, Jewelry Design: Nicholas Varney. Art to Carlos Betancourt,  Graphic Design: Laura Paresky :Jeff Blakely for Landscape Design and Architecture, and Vladimir Kagan For Life Time Achievement.
Ann Norton Sculpture Garden Board of Trustees
       The Ann Norton Sculpture Garden in West Palm Beach elected Jeff to it's Board of Trustees. These historic gardens, residence and studio were  once the home of one of the United States most revered woman sculptors. The artists studio contains works in bronze, wood, and stone encompassing over 4 decades of work and several artistic periods.
       The gardens contain monumental sculptures built directly in the gardens, for the gardens, which are a surprise as you happen upon them while working through the property, itself populated by rare and endangered palm species. The gardens were originally designed in concert with Sir Peter Smithers.
Please visit www.ansg.org
New Books Now Available
     Recently reviewed in Landscape Architecture Magazine, (see publications on the website), Down in the Dumps is available for purchase: hardback 34 pages, full color, inquire for price.
 A Few Places, 2010 illustrates 10 properties, hard back 66 pages, full color, with photography by Kevin Clark, inquire for price.